it's a freak show for your ears
Somatoast has become a quintessential name in the world of psychedelic bass music without ever having latched on to the label. Mark's sound is diverse and ever-evolving. He never settles for stagnation among any one genre, yet each song is distinctly his. Such a concoction welcomes experimentation and emotion on the dance floor both in the music and the listener— ushering a fresh and unique take on electronic music and the sound system experience.
Somatoast's latest album 'Creation is Creation' clocked a combined 300,000 plays within the first month of release. Across multiple vinyl pressings, he has sold over 1500 records and counting, often selling out the pressings within a day or two. Somatoast's tour history expands internationally, including plays in Australia, Mexico, Israel and Canada.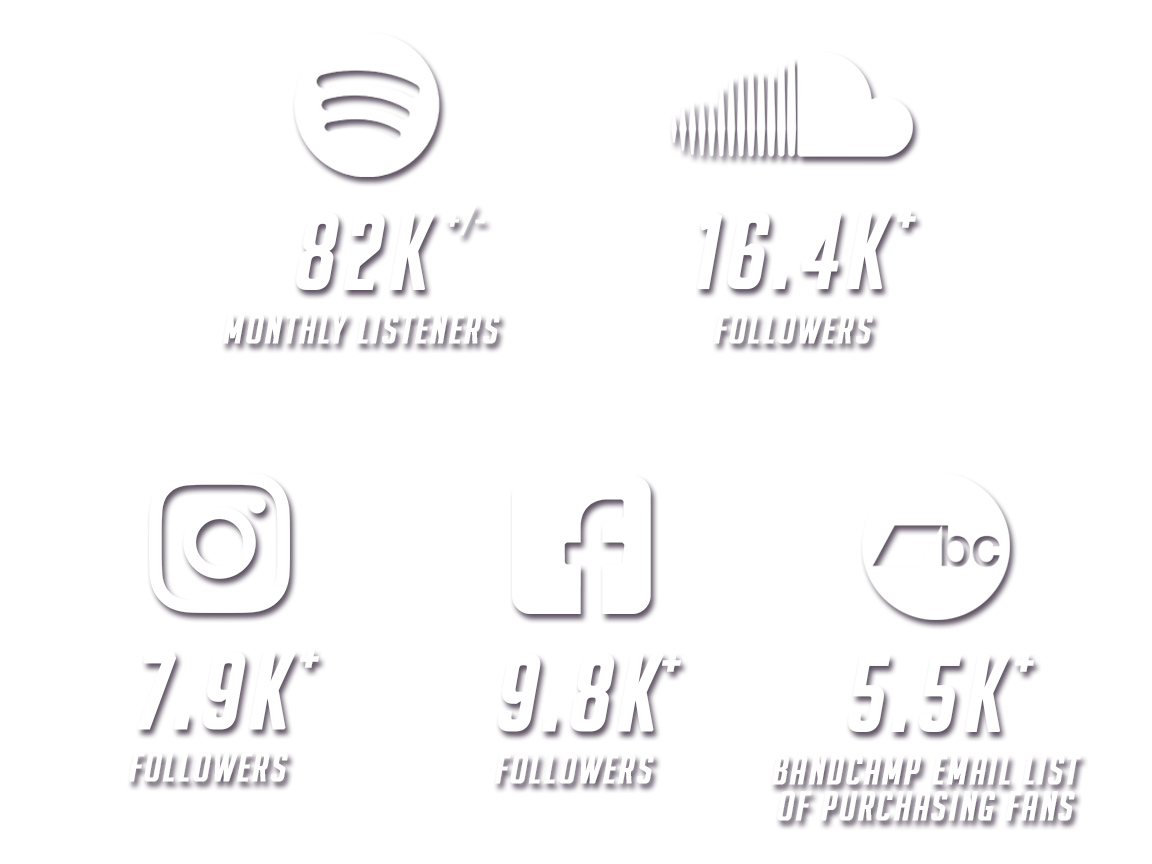 * as of february 2023. monthly listener count fluctuates.

Since its release in February 2022, Creation is Creation has:
The Orpheum Theater NOLA (Supporting Tipper)
Salvage Station (Supporting Papadosio)
Brooklyn Mirage (Supporting Detox Unit)
The Boulder Theater (Supporting Clozee)
The Berkeley Theater (Supporting Infected Mushroom)
Emo's Austin (Supporting Infected Mushroom)
Meow Wolf (Santa Fe)
Terminal West (Atlanta)
Cervantes (Denver)
The Black Box (Denver)
Alex Grey's CoSM (New York)
The Mohawk (Austin)
Asheville Music Hall (Asheville)
Whiskey Bar (Portland)
Nectar Lounge (Seattle)
The Bluebird (Denver)
Terraform (Houston)
The Howlin' Wolf (New Orleans)
The Parish (Austin)
Haven (Nevada City)
Empire Control Room & Garage (Austin)
Deep Ellum Art Company (Dallas)
Your Mom's House (Denver)
Wormhole Wednesday (Oakland)
Wormhole Tahoe (Lake Tahoe)
VooDoo Room (Austin)
Last Exit Live (Phoenix)
Soundpieces (San Francisco)
George's Majestic Lounge (Fayetteville AR)
Tea Time (Brooklyn)
Stella Blues (New Haven)
The Strand (Providence)
Further Farms (Nashville)
Synergy Glass (St. Petersburg)
TK Lounge (Tampa)
Spin Night Club (San Diego)
Secret Dreams
Resonate Suwannee
Solasta
Elements Music Festival
Infrasound Music Festival
Sound Haven Music Festival
Tipper & Friends 4321 Eclipse
Bigfoot Electro
Astral Lights
Rootwire
Art Outside
Lunar Tide
Psychedelic Sleepover
Great North Music & Arts Festival
Astronox
Co:Creation Music Festival
Cascadia NW
Pirate Party
Australia
Earth Frequency Festival (Supporting Clozee)
Rainbow Serpent Festival
Where The Wild Things Are
Byron Bay w/ Clozee
Israel
Fusion Culture 2019
Fusion Culture 2022
Mexico
Kupuri Fest
Canada
Luminosity Gathering
Sur Les Tois Du Monde
Creation is Creation - 2022 - Vinyl/Digital - Gravitas Recordings
Dreamhop Jazzytime - 2020 - Vinyl/Digital
Dreamhop Jazzytime: Remixed - 2020 - Digital
Thicc Magicc - 2020 - Digital
Live Dreaming - 2019 - Vinyl/Digital - Gravitas Recordings
Spit Swisha - 2018 - Digital
Unraveling (Somatoast & Zonra) - 2017 - Digital - Shanti Planti
Goop - 2016 - Digital - Gravitas Recordings
Tiny Things - 2014 - Digital - Shanti Planti
Withinity - 2013 - Digital - Gravitas Recordings
Liberation Through Hearing - 2012 - Digital
Singles, Compilations & Remixes
Somatoast & Drrtywulvz - Smashville - 2022 - Shanti Planti
Savej - One Truth (Somatoast Remix) - 2021 - Gravitas Recordings
Hullabalo0 - Smoons (Somatoast Remix) - 2021 - Street Ritual
Erothyme - Panther Crick (Somatoast Remix) - 2021
Kaya Project - Seed (Somatoast Remix) - 2020
The Ever Descending Elevator - 2020 - Headroom Music Collective
Fig Tree of Your Imagination - 2020 - Shanti Planti
Lunar Biscuit - 2020
Desert Dwellers - One That Shows The Way (Somatoast Remix) - 2020
Why Are You Hitting Yourself? - 2019 - Shanti Planti
Persnickety Swivet - 2019
Don't Worry Be Happy - 2018
Somatoast & Zonra - Chimera - 2018 - Shanti Planti
Call of the Void - 2017 - Desert Trax
In a Sense - 2016 - Saeiound
Jerry's Mind - 2014 - Shanti Planti
Jerry's Dream - 2014 - Merkaba Music
Quanta - Center of the Lamp (Somatoast Remix) - 2013 - Shanti Planti
Press Coverage & Playlisting
"Somatoast is consistently one of the most exciting artists in the downtempo realms." - Outtallectuals
"Somatoast is a tastemaker who continuously amazes with the array of soundscapes he creates. His growing fanbase can't get enough of what he's all about…" - Ali Mooney, EDM Identity
"Amidst the flurry of evolving genres, scenes, and passing generations of producers, Mark Rubin has been steadfast in his creative lane…" - The Rust